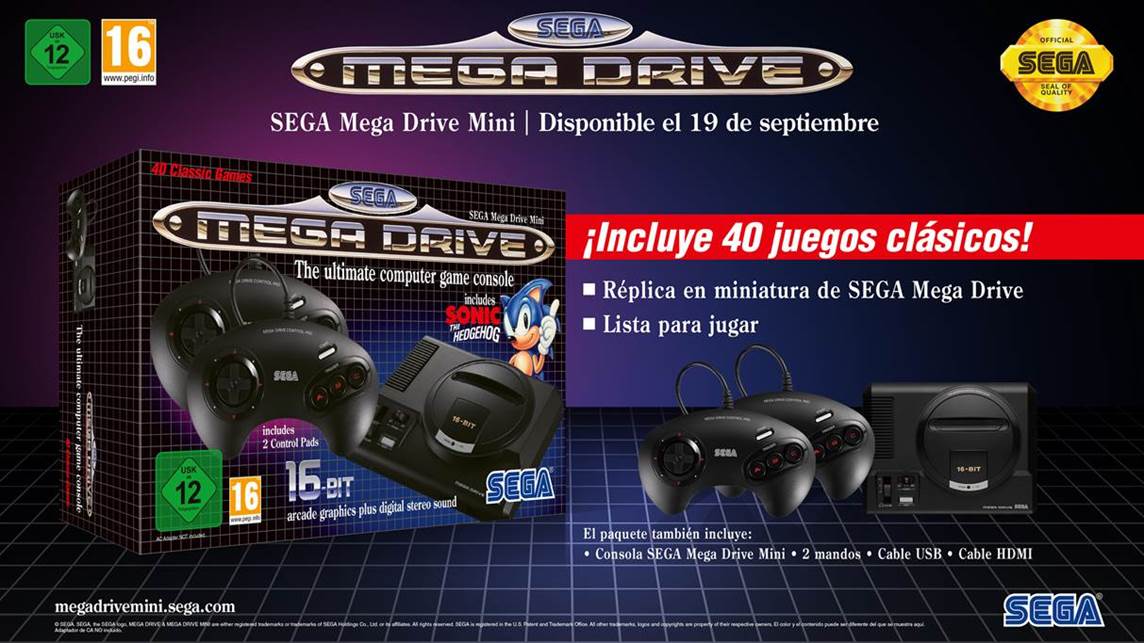 SEGA Mega Drive Mini es una reproducción un 55% más pequeña que la primera Mega Drive original que incluye grandes detalles como el hueco para cartuchos que se abrirá y el deslizador del volumen que subirá y bajará. Además incorpora dos mandos con tres botones y cable de 2 metros cada uno.
El catálogo de juegos que incluye constará de 40 títulos entre los que están Ecco the Dolphin, Castlevania: Bloodlines, Space Harrier 2, Shining Force, Dr. Robotnik´s Mean Bean Machine, Toe Jam & Earl, Comix Zone, Sonic the Hedgehog, Altered Beast, Gunstar Heroes y muchos más…
Todos los juegos permitirán guardar la partida en cualquier momento y funcionarán a 60Hz, así tendrás un resultado más fluido y adecuado a las tecnologías actuales. La interfaz, por su puesto, estará basada en la estética de los años 90 para que tu experiencia sea más intensa.
CONTENIDO DE LA CAJA:
Consola SEGA Mega Drive Mini: Reproducción fiel de la primera Mega Drive un 55% más pequeña y con gran detalle.
2 Mandos de 3 botones y cable de 2 metros con conexión USB. No te faltarán las clásicas partidas de dos jugadores simultaneos con piques asegurados.
Cable HDMI.
Cable USB de carga.